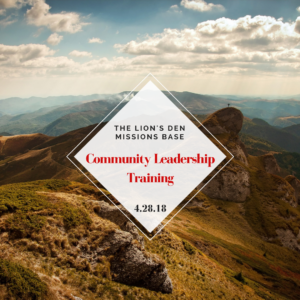 Community Leadership Training
PLEASE NOTE THIS TRAINING HAS BEEN POSTPONED UNTIL FURTHER NOTICE
Are you interested impacting your community? Are you currently leading a community-centered activity and are seeking support to expand your efforts? This training may be for you!
Seasoned leaders turn ideas into reality and problems into opportunities. The Lion's Den Missions Base (TLD) is committed to fostering opportunities for emerging and seasoned leaders to function and grow. Through its Spiritual, Emotional, and Organizational Leadership Certification. TLD provides new and seasoned leaders with the resources and guidance needed to positively and tangibly impact their surroundings.
Designed and proctored by Camden University and Graduate School of Theology, TLD's certification and designation programs nurture leaders with the ability to apply progressive solutions to some of the most complex situations.
Push through 2018 by equipping yourself to equip others with this

6-week teaching, extracted from TLD's Spiritual, Emotional, and Organizational Training Program track. Led by Dr. Jason Jackson, the training entitled, "Establishing Fundamental Leadership Strategies",

is derived from the Camden University proctored manual, Foundations, Protocols and Strategies for Organizational and Ministry Leaders.
Training Schedule (PLEASE NOTE THIS TRAINING HAS BEEN POSTPONED UNTIL FURTHER NOTICE)
Leadership Orientation: Saturday, TBA 9:00am- 12:00pm. Held at The Lion's Den Missions Base at 10:00am. 5440 NW 33rd Ave Suite 102, Fort Lauderdale FL 33309.
Online/Telephonic Training: Tuesdays and Thursdays, Dates TBA 2018
As a TLD certified leader, you will be equipped to make an impact by:
-Providing a physically and emotionally safe environments for others to thrive
-Offering fresh perspectives to improve community programs
-Serving as a trusted mentor and colleague for other leaders
Once certified, leaders will have the opportunity to volunteer in TLD's Spiritual, Emotional, & Organizational Initiative as program managers and/or team leaders for the following:
1. Volunteer Mobilization program
2. Life Engineering (mentorship) program
3. Community Distributions Site program
4. Community Resource Site program
5. Crisis Counseling and Inner Healing program
6. Prison Outreach and Societal Reinstatement program
7. Rapid Response & Relief Team
Prefer to meet us in person before the training? Register for our TBA Volunteer Open House event on TBA at 10a.m. We would love to meet you! Please click below for more information:
The Lion's Den Missions Base
Fort Lauderdale, Florida 33309
Phone: 954.376.3128
Email: jacqueline.brown@themissionsbase.org
Use the registration form below to begin your journey with TLD: