Fire at The Waters Miracle\Supernatural Reset
Service

Saturday, September 30th, 2023 at 6:00 pm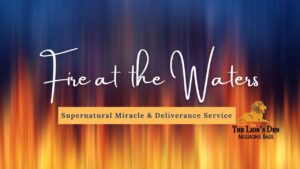 What happens when prophetic voices come together to close the door to the old and prophesy to the new? An explosion of miracles and breakthroughs.
Join us for this special evening of Prophetic Worship, Healing, and Deliverance Service
When: Saturday, September 30th 2023 at 6:00pm
.
Location:5440 NW 33rd Avenue Suite 102
Fort Lauderdale, FL. 33309
In chapters 9 and 10 of Luke's Gospel, Jesus empowers his disciples with the supernatural ability not only to advance their destinies but to free others from purpose-hindering mental, physical, and emotional bondage.
Filled with spontaneous prophetic worship, intercessory prayer, and the tangible Presence of The Holy Spirit, Fire at The Waters Miracle Service is designed to provide those in need with a powerful encounter with GOD.
Excited about attending this event? Participants are encouraged to join us for powerful encounters leading up to the powerful Night of Fire at The Waters Miracle Service
Text TLD to the text line for more information