Hurricane Matthew Relief Initiative (HMRI)
The United Nations Chaplains & Pastors Assoc. Led Lion's Den RRT Responding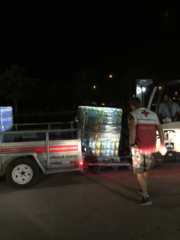 Chaplain Gino Piompino Guiding Loading Operations on October 5, 2016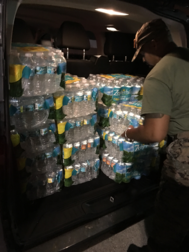 Dr. Jason Jackson Loading Emergency Water for SFL residents
Volunteer For The Hurricane Matthew Relief Initiative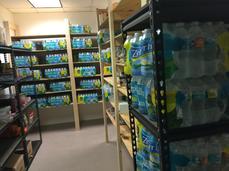 Water Delivered to Tree of Life Food Bank Located at The Lion's Den Missions Base

Hurricane Matthew Relief Initiative Overview
Hurricane Matthew is likely one of the strongest hurricanes to impact the Caribbean and Southeastern United States within the last decade. The storm has registered as the first Category #5 Atlantic hurricane since Hurricane Felix of 2007. Matthew formed from a vigorous tropical wave that moved slowly off of the African coast on September 22, 2016 before developing into a tropical storm as it was situated just to the East of the Leeward Islands on September 28. One day later, Hurricane Matthew rapidly strengthened into a Category 5 hurricane as it impacted the Caribbean on its way towards the South Eastern coast of the Continental U.S.
After completing a successful month long effort to restore those effected by the Baton Rouge flood, The Lion's Den Missions Base, led by the United Nations Chaplains and Pastors Association (UNCPA), has quickly reassembled to respond to those impacted by Hurricane Matthew. Relief efforts are currently extending to areas of Northeastern Florida, South Carolina, and North Carolina (Robeson County) that were also affected. In partnership with the American Red Cross, FEMA and the Tree of Life Food Bank (www.themissionscenter.org), the Lion's Den has mobilized with crisis trained responders to assist with sustainment and recovery efforts associated with Hurricane Matthew in two phases:
Phase One
During Phase One, from October 5, 2016 through October 9, 2016, in partnership with the UNCA TLD on provided shelter, food and community restoration efforts to those impacted within the South Florida region. The UNCPA has partnered with the Tree of Life Food Bank, The American Red Cross and The Lion's Den Missions Base to provide on the ground support during Phase One. The UNCPA led Rapid Response Team will focus on coordinating streamlined efforts through local church leaders to deploy concentrated resources to the community level.
Phase Two
During Phase Two, from October 10, 2016 through November 5, 2016 the UNCA expanded to supporting residents in Red Cross managed shelters throughout South Carolina and the Northern Florida coast through the provision of tangible goods and Spiritual care during their transition.
The following items were provided:
Bottled water and canned foods,
Hygiene supplies and other comfort items,
Supplies needed for children and infants, such as diapers & formula,
Clean up supplies such as heavy duty garbage bags
Special items for family members who are elderly or disabled; and
Learn more or donate your talents or resources by registering your information below: